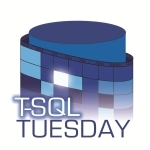 Welcome to December's TSQL Tuesday post brought to you courtesy of Steve Jones ( blog | Twitter ). In his post last week, Steve asked, "What issues have you had in interacting with the business to get your job done?"
I just want to be inspired. – Dorothy Boyd
I had a hard time with this post. I had a fair number of topics come to mind, but I didn't want to turn this into a rant. I really wanted to provide constructive ideas. It is very easy to just accept things as they are, and when I find myself falling into that trap, I remember this quote from Eldridge Cleaver: "You're either part of the solution or part of the problem." Where I can, I'd rather be part of the solution. I admit, it's much easier to complain and a lot more fun, but where does that really get us at the end of the day?
I'm not trying to make history here. – Jerry Maguire
I have business challenges internally (working with other departments) and externally (working with customers). Some challenges are the same between both, others are very different, and I finally decided to provide a viewpoint based on my work with customers.
Jump in my nightmare, the water's warm! – Jerry Maguire
I am frequently asked to assist with support issues related to system performance. My task varies: prove the problem is not due to the database or its server, prove the problem is not something with our software, or just figure out what the heck is causing the problem. And every time I assist, I need help from individuals at the customer site. I need the application administrator to tell me how the problem manifests in the application. I need the database administrator to provide access, tell me about their current maintenance strategies and provide baselines if they exist. I may need the SAN administrator to tell me about the database storage. I may need the network administrator to monitor the network for me. Getting access to the resources I need, quickly, is sometimes very difficult, even when performance is poor.
My biggest challenge? Teamwork. Solving problems with customers requires a team effort. I understand that politics exist in any workplace, and I can negotiate them fairly well, but it does make the task more difficult. My ideal approach is pretty simple: get everyone involved in one room, look at the problem, figure out how to attack it and go. Unfortunately, getting everyone in one room is usually impossible. Or, you may end up with a 20 person conference call which is worse, in my opinion.
The key to this business is personal relationships. – Dicky Fox
Believe it or not, I have the same challenge when I go on site to consult for a customer. I am usually there for two to three days, and there have been times when the only person I talk to face to face is the application administrator. I ask to talk to the SAN administrator, but often just end up asking questions via email because that person is "unavailable". I once went on site and sat in a cubical by myself for the majority of three days, talking with the administrator for about two hours the entire time. Even though the SAN admin was just around the corner, he only answered my questions via email. I sent the final report, followed up a few times, never spoke with them again.
I don't feel like they're getting the true value of the services we can provide. On the business side, I could be thinking, "Woohoo, easier work for me, and we get the money!" But the other side of me wonders how long it will be until that customer runs into a problem, and it circles back to me. Quite often, a little knowledge would have prevented that problem.
Help me, help you. – Jerry Maguire
I have considered that I might need to be more assertive when working with customers. I can definitely set better expectations up front regarding the level of involvement they need to have in order to be most successful. It's a fine line I'm still learning to walk.
And I haven't given up hope. Last November we visited a customer that had serious performance issues. The business process was severely affected and they needed help figuring out where to start. We had a kick-off meeting when we arrived, then were taken to 25 person training room with a projector and whiteboard paint on the walls. For three days we were in that room with the two application administrators, the VM administrator, the SAN administrator, additional IT folks and the department manager. They asked me to project my computer, so they could see everything that I did and learn from it. It was, by far, the best on-site visit yet. We went back right before the Summit this year. Their system performance has improved significantly, and the knowledge they had gained was evident by additional changes they had made since our visit. It was an inspiring example of the power of teamwork.