November's TSQL Tuesday is hosted by Paul Randal ( blog | Twitter ) and the topic is Why are DBA Skills Necessary?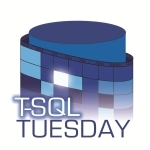 The topic immediately made me think of some of the customer issues I have worked on over the years, and Paul's list of things to consider confirmed that I was thinking about the right things. As someone who works for a software vendor, I have worked with DBAs with widely varying skill sets. It was very hard to not write a lengthy post addressing everything Paul brought up and more, but in the end I decided to focus on just three items:
Problems I've seen

How business continuity can be affected by a lack of DBA skills

When a SQL Server installation needs a real DBA
At our user group conference in September I did a three hour session titled, "When Bad Things Happen to Good Databases." I reviewed Backups, Integrity Checks, Optimization tasks and Monitoring, and I discussed some of the worst horror stories I have seen, hoping I could scare the attendees into taking action. Here's the best of the worst…
Backups
The database server crashed, and the mdf and ldf files were copied off the disks, but they were corrupt (in the system tables, the worst corruption I have seen). The job to create backups had not been running, but the job to delete old backup files had been running. A backup that was taken before the customer's last upgrade was found. That backup was two years old. Now, in our application, only metadata is stored in the database, so the customer had original files they could re-process…but it was a lot of data. We spent one day trying to recover the database, which was too long. The moment that I discovered corruption in the system tables, I told the customer they had to go to backup. Because the backup was so old, they still wanted me to try and extract as much data as I could from the tables. I spent a few hours on that, and then explained they had no choice but to go to backup because there was absolutely no consistency in what I was saving out. It was another day to get the backup restored and to a point where they could start to re-process data. I have no idea how long it took to re-process everything, and I'm not sure at what point they were "operational" again. I also have no idea if anyone lost their job as a result of the data loss and downtime.
Integrity Checks
A customer discovered corruption in one of the application's logging tables – it's typically one of the largest tables in the database. Luckily the corruption was confined to that one table. We ended up selecting out what information we could to a new table, and ultimately had no idea how much data they were missing. No one lost their job, and that customer is still in business and thriving…and they now have a DBA.
Optimizations
In March of this year I dialed into a customer to work on an issue and out of habit, checked statistics, which had not been updated since 2003. Yes, seven years. The application administrator said that users were not complaining of problems, and I did not have time to do any testing to see what performance was really like. The database was less than 10 GB, so I would assume that most of what they needed was probably sitting in memory. Needless to say, I provided them with our maintenance recommendations.
Monitoring
A customer called because they had an error message appear while using the application. The error stated that the transaction log file was full. To resolve the problem, the customer shut down SQL Server and deleted the log file. At least a day's worth of work (and some unknown amount of data) was lost, and it took almost a full business day to get the system back online (there was a delay between the time the file was deleted and when our group was engaged to assist).
As illustrated in these real-life examples, business continuity can be mildly or profoundly affected by a lack of DBA skills. I have seen customers experience an hour or two of downtime, and I have seen customers experience days of downtime. During this time, people are not working, the business process itself is altered, if not completely stopped, and money is lost every minute. Money is lost to the employees that are being paid to do nothing, lost because the processes that should normally bring in money cannot be completed, and lost to fines incurred because information is unavailable or data is lost.
So when does an organization need a DBA? I struggled with this…because I don't think it depends just on database size, the number of users, the transactions per second or features in use; it's about the data. Mainly, how important is it and how long can you stand to be without it?
If your business can continue, uninterrupted, without the data in your database for more than a week, and you aren't too concerned with how much data you lose, then you don't need a DBA. Anything less, you need one. Sound extreme? It is. But what's the most important thing in your business? Your data. Yes, people are important, but if you don't have data, what are your people going to do?
*If you're wondering why I picked a week…well, I figure that's probably the amount of time it would take to find a "real" DBA to come in and help fix the problem. This duration is based on no scientific data whatsoever.